In this post, I will be demonstrating how to stencil. I started by sealing the wood with two coats of Minwax® Polycrylic Protective Finish to prevent the stain from seeping beneath the outline of my stencil.
Since my stencil is very large, I sprayed a light coat of aerosol adhesive on the back, then let it dry so that the back of the stencil is tacky, but not wet with glue.
While my spray adhesive was drying, I gathered my tools:  a sea sponge, Minwax® Express Color™ Onyx, paper towels, and a scrap piece of plywood to hold them all.
After dipping my sea sponge lightly into a small puddle of Onyx stain and finish, I pressed it onto the paper towel to remove the excess stain that might seep under my stencil, then carefully and lightly began dabbing a thin layer of stain atop the stencil. Don't get impatient and apply too much, as it will run under the edge of the stencil.
By repeating the process, I quickly began building up thin layers of stain over the stencil.
In less than ten minutes I had covered the entire stencil on my practice board.
Then came the first reveal as I carefully pealed back the stencil.
Beginning to get the picture?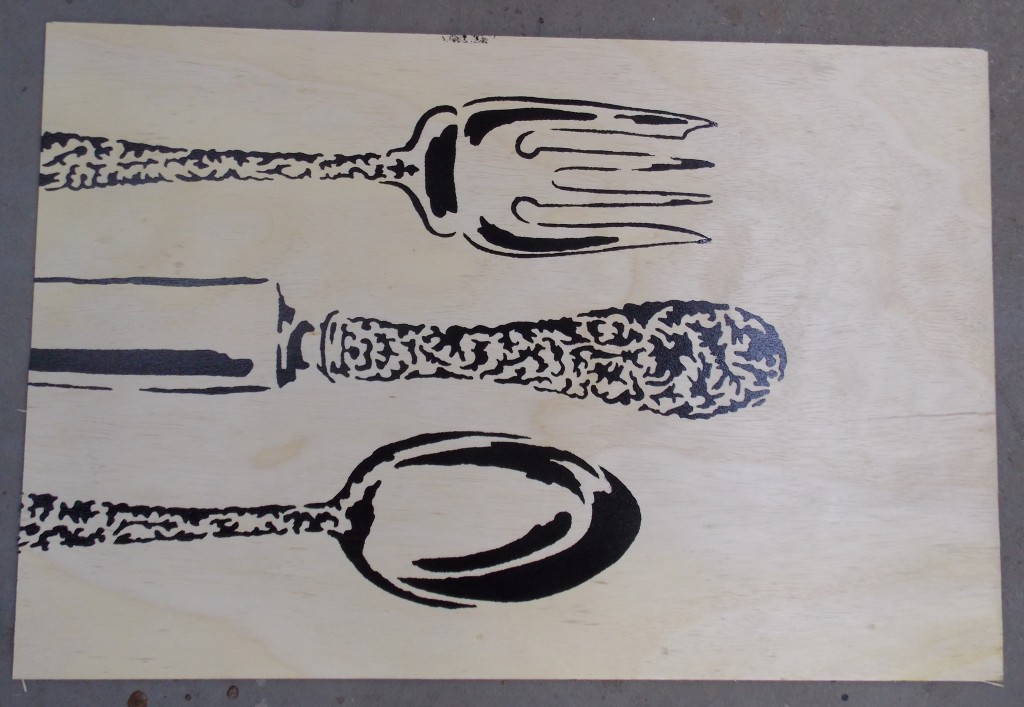 And here is my completed practice stencil for the top of the kitchen cart! After it dries I will protect it and the wood with an additional coat of Minwax® Polycrylic Protective Finish.