What do Minwax® stains and a pajama party for 350 energetic women have in common?
Before last week's national SNAP! conference for DIY bloggers held outside Salt Lake City, I wouldn't have had a clue, but now I know. If you would like to see what the organizers had in store for us when we arrived, you can read more here.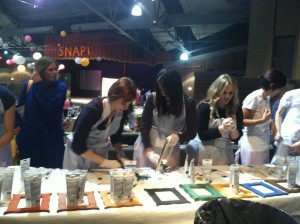 SNAP! brought together 350 of the most enthusiastic, energetic, talented DIYers — and bloggers — that I have ever witnessed, and being one of the few men participating in this three day event, I must say it was a supercharged conference. Minwax® was one of the sponsors of the SNAP! conference, so on opening night we gave everyone the opportunity to stain an unfinished picture frame using our water-based Express Color stain-and-finish in a tube. They pulled on their gloves, slipped their aprons over their pajamas, and picked out their favorite color to use.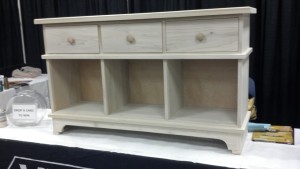 During the day the Minwax® team and I staffed our booth, where we answered questions, demonstrated products, and stained and finished this unfinished sofa table. After much debate, we selected Hickory Gel Stain for the frame and Onyx Express Color for the drawers. An initial application of Minwax® Pre-Stain Wood Conditioner on Thursday insured that the poplar would absorb the stain evenly, and by Saturday I was brushing on the final coat of Minwax Polycrylic® Protective Finish.
On Friday I left our booth to make my way to the theatre, where Minwax® hosted a brown bag luncheon. That gave me the opportunity to demonstrate even more Minwax® products to more than a hundred bloggers. I think they were the most amazed at the difference they could see that Minwax® Pre-Stain Wood Conditioner made in eliminating blotchiness on the boards I was staining for them.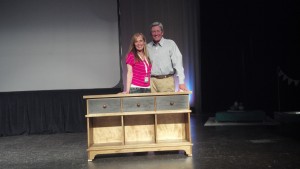 After my presentation, I slipped into a session entitled "Learn the Two Secrets the Best Photographers Already Know" and am anxious to use what I learned from Emilie in my future posts. On Saturday evening, Minwax® sponsored the closing banquet, where we drew the name of the lucky winner of the completed sofa table. Melissa from FabDecor certainly was excited about taking it home with her.
I think everyone left on Sunday feeling exhausted, but exhilarated. The energy level never dropped the entire three days of the conference, and we all came away with new ideas, new friends, and new products to try back at home.
Until next time,
Thanks for stopping by!
Bruce