Minwax® has partnered with Jenni Radosevich of I SPY DIY. Her mantra is "spot style you love, and do-it-yourself." See how she created this incredible herringbone headboard in no time at all.
The concept of the herringbone pattern is pretty simple, but I thought there might be some challenges turning it into a headboard. I was beyond happy when this project ended up being easier and way less time consuming than I thought; and turned out even better then I hoped! The guys at the hardware store were skeptical when I showed them the inspiration pic and told them I planned on finishing it in a day. But all the cutting/staining/gluing only took about three hours. Then, I let the glue set over night and spent around two hours the next day adding the frame and poly coats. I made the accent color using Minwax® Water-Based Wood Stain in 'Pearl Gray", but you can switch it up to match the decor in your bedroom. All the supplies cost $150 dollars, which is pretty darn good for a custom headboard!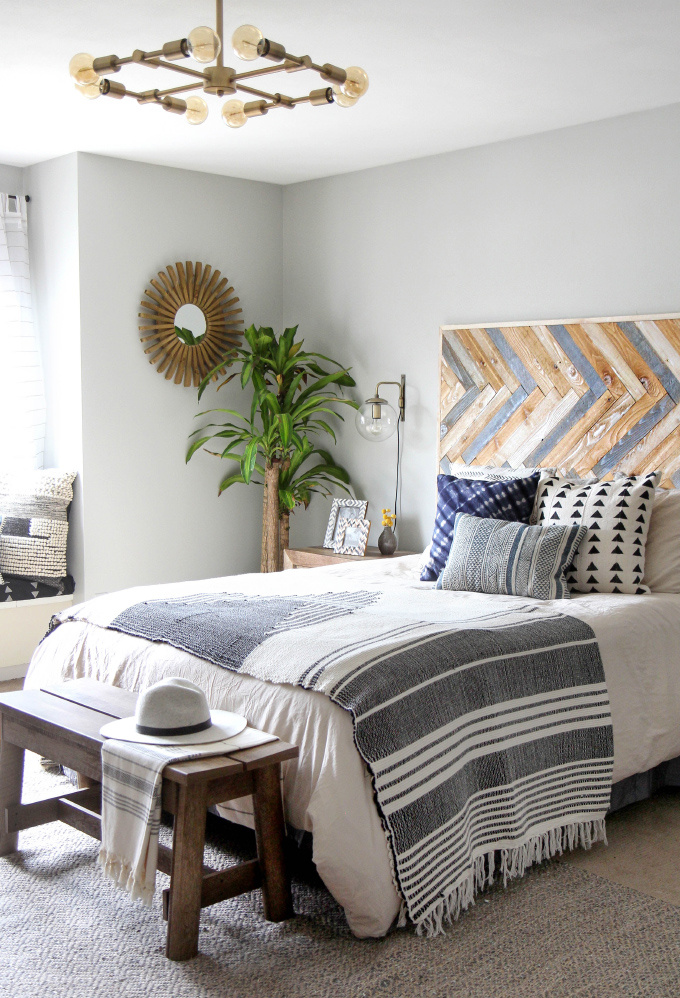 What you'll need: 
Plywood 4 x 8ft. 1/3 in. thick – for a queen bed cut to 70 in. x 48 in.
7/8in X 3in – 8FT Cedar Boards (18 boards)
7/8in X 2in -8FT Cedar Board (4 boards)
1 Quart Minwax® Water Based Wood Stain – Pearl Gray
1 Quart Minwax® Water Based Wood Stain – White Wash Pickling 
Minwax® Polycrylic™ Protective Finish 
Wood Glue (3 bottles)
2 inch wood screws
Paint brush
Clamps
Drill
Miter saw
Circular saw
I did a bit of guesstimating at the hardware store and bought 18 – 8 ft. pieces of 3 in. cedar. After factoring in a few bad cuts, I had the perfect amount of wood. If you did some more math, you could probably save some money with 12 ft. pieces, but math hurts my brain…
Now time to blast your music and start cutting! Using your miter saw, cut the cedar to 18 in. pieces. After cutting each board down, I laid the pieces on the plywood backing. Place the pieces to create 90 degree angles (butt joints), that repeat to create a vertical herringbone pattern. Once I got to the ends, I cut smaller pieces making sure that all of the plywood backing was covered.
Once all of the pieces were in place, I picked out every third one, brushed it lightly with the Pearl Gray, then set it back into place. Then, I picked out some random ones to stain white. I also flipped some of the raw cedar to show the rough side, and others to show the smooth side, to get a lot of different colors and texture. Doing it this way went a lot faster then I thought, and lets you really make sure you're getting that unplanned, yet perfect, look!
I experimented with 'Slate' and 'Pearl Gray' stain. I planned to use both, but ended up just using the 'Pearl Gray' and 'White Wash Pickling' because I did not want the headboard to look too busy. The 'Slate' is gorgeous though, and I can't wait to use it on another project!
On some of the white washed pieces, I used a super thin layer on the rough side of the cedar, and I LOVE how the wood peeked through. On other pieces, I added a second coat so they would be whiter.
Once your stain is dry to the touch, you can start gluing down the pieces. My brother-in-law came up with the brilliant idea of using his nail gun to secure a zig-zag down the middle as a guideline. Then I worked my way out on both sides, making sure the pattern stayed straight and covered the plywood.
Unfortunately, I don't have a pic of the next step because I was holding down the wood while my Bro-in-law used a circular saw to cut off all the wood that hung over the plywood; but clamped down a piece of wood along the edge and then ran the circular saw along it to make a straight cut. Next, I created the frame by measuring each side and making 45 degree miter cuts. I did this by making a 45 degree cut on one side, then lined the short end up to one corner, marked the other corner, then cut. I clamped the frame pieces to the headboard and drilled in 2 in. wood screws around the perimeter to secure the frame.
The final step was adding a Polycrylic™ Protective Finish, which was a game changer. It brought out all the beautiful colors of the cedar! Make sure to brush it on, in the direction of grain, then let dry completely.
Securing the newly completed headboard to the wall was a two woman job. We propped it on top of the bed frame to get the right height; then using a stud finder, we then drilled eight screws through the headboard and into the studs to make sure it would stay put on the wall, and voila!
Can't wait to see your version!
For more of Jenni's DIY projects. Check out her blog I SPY DIY and follow her on Facebook, Twitter, and Instagram.