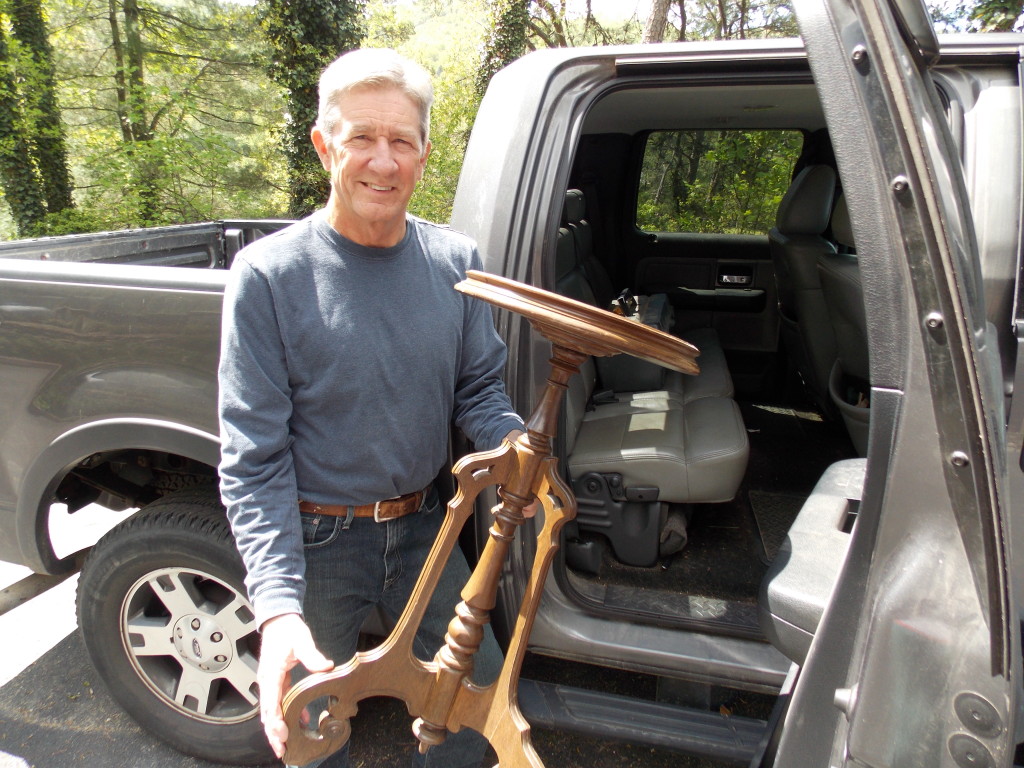 My grandmother loved walnut Victorian antiques, and she loved teaching me how to refinish them. We don't hear much about Victorian furniture right now, but bargains never go out of style. When I spotted this circa 1890s walnut plant stand at a flea market for just thirty dollars, I knew my grandmother would have urged me to buy it. So, if you want to see how easy it will be for me to restore it, you can follow along right here.
My antique plant stand was a bargain in part because it had a few problems. First, it was dirty, but I knew I could easily remove years of dirt and grime with just a damp sponge or paper towel and some Minwax® Wood Cabinet Cleaner. I just flipped up the trigger flap, sprayed it on, and then wiped off the loosened dirt.
The second problem with my plant stand was that one of the joints attaching a leg to the base had come loose. This would require some wood glue. For wood glue to bond the two pieces together, the freshly glued joint has to be held under pressure for at least two hours while the glue dries. I always wait a total of 24 hours for the glue to cure before I subject the joint to any pressure.
Over the years I have accumulated an assortment of clamps, but don't think that you have to have a collection of expensive clamps in order to save a piece of furniture that needs regluing. In fact, you probably already have just the clamp you need for a project like this plant stand.
An inexpensive bungee cord wrapped around the three legs of this plant stand is all that is needed to apply adequate pressure to the glue joint. If you find some of your excess glue is seeping out of the joint, just use a damp cloth or paper towel to wipe it off before it dries.
Another option for applying pressure to the glue joint is a tourniquet. To create a simple tourniquet, loop a length of ordinary rope around the base and legs, then tighten it by twisting a short piece of wood placed in the knot. Again, wipe off any excess glue with a damp cloth and let it dry for at least two hours.
My walnut plant stand is now clean and sturdy, but I can see that the finish has a few problems of its own. There are some scratches I want to touch up and I know I can make the finish look even brighter and better. That will be the topic for my next posting, so check back soon and see how I restore the finish — and make my grandmother proud!
Until next time,
Thanks for stopping by!
Bruce
PS – Be sure to check out the Minwax® Facebook page for even more tips on wood staining and finishing!