Our home is a 1972 split-level house with an oak staircase and landing. Regardless whether you enter through the upper front door or the lower level door, you have to walk across this landing. And with two rescued dogs – Jasper and Daisy – coming and going as well, it wasn't long before the finish on our oak landing was looking pretty worn. If you would like to follow along as I revive this worn out finish, you can read more about it here.
As you can see, the majority of the worn finish on my landing is still intact. Rather than sanding and refinishing it, however, I can easily restore it using Minwax® Hardwood Floor Reviver — a water-based floor finish that refreshes hardwood floors that are worn, scratched or dull.
The first thing I needed to do was to sweep up any loose grit and dirt. Any fine grit turns the bottom of our shoes into sanding pads, which is why it is always a good idea to use doormats. Just to make sure I wasn't tracking more dirt onto the landing, I slipped off my shoes before I got started.
Sweeping alone isn't going to clean the finish on my landing, so I followed with a damp mop and a bottle of Minwax® Hardwood Floor Cleaner. This is a non-toxic, biodegradable formula that helps you maintain the natural beauty of any hardwood,  pre-finished and laminate flooring. Regular use will keep your floors looking beautiful by gently removing dirt and grime, without leaving a soap film behind.
Once the landing had dried, I reached for my squeeze bottle of Minwax® Hardwood Floor Reviver.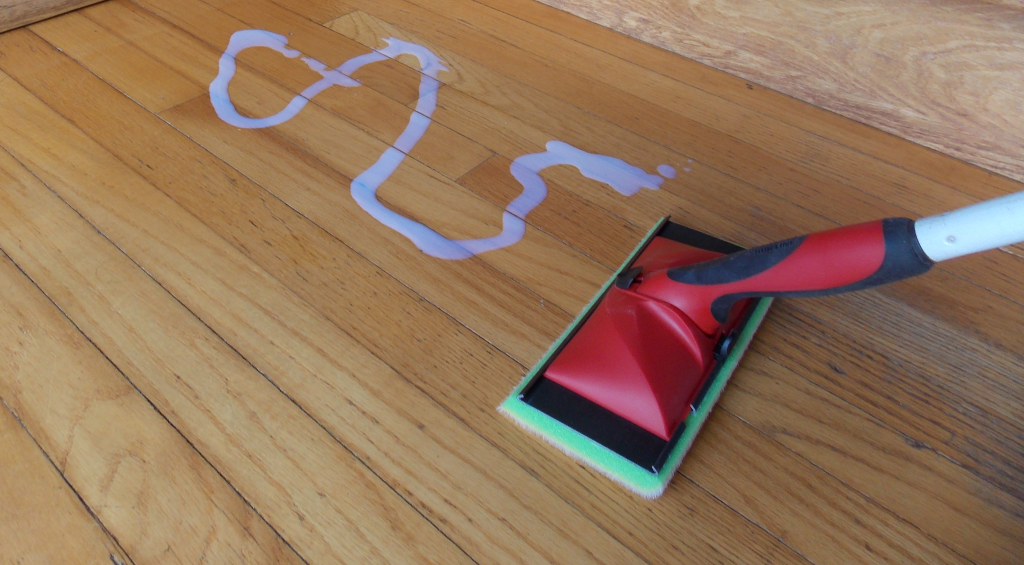 Don't let the milky appearance of the Hardwood Floor Reviver surprise you. The milky color and low odor are reminders that this is a water-based finish. I generally only work about a three-foot square area at a time, using a clean, damp painter's pad or synthetic applicator attached to a long handle to spread Reviver across the floor.
If you look closely, you can see how the Hardwood Floor Reviver is adding both additional sheen and protection to the floor. The wide foam pad makes it easy to apply a thin, even coat. Just like when you are brushing on a finish, you want to spread the Reviver going only in the direction of the grain of the wood. This will avoid having your pad leave any streaks in the dried finish.
And speaking of drying, since Minwax® Hardwood Floor Reviver is water-based, it dries very quickly. Naturally, temperature and humidity will affect the drying time, but I always wait at least two hours before walking lightly on the floor.  And to be safe, I keep the rugs, furniture, Jasper and Daisy off it for 24 hours after application.
As you can see, it is a fast and easy way to restore your worn floors without stripping or sanding.
Until next time,
Thanks for stopping by!
Bruce
PS – Be sure to check out the Minwax® Facebook page for even more tips on wood staining and finishing!