When my office assistant Alexandra said she wanted to build a coffee table, I was impressed. When she said she wanted to build it out of an old shipping pallet, I was skeptical. But when I saw what she had built — in just a few hours — I was amazed! Take a look to see what she did with what first looked like a pile of junk.
Alex found her pallet next to a dumpster, but could see that it was in pretty good shape, only needing a sanding with some coarse grit (#60) sandpaper to round the edges and smooth out the top, still wanting to leave it looking like a shipping pallet!
Since Alex wanted the boards spaced closer together, she carefully pried each one off and set the boards aside for the moment.
She then laid them out in the pattern she wanted, keeping the original nails in each board.
A couple of taps with the hammer and each board was secured in place.
This pallet was larger than what she needed, so before nailing on the final board, Alex sawed off the unwanted section.
She found these industrial casters at a salvage yard for just $20 and bolted them to the underside of the pallet. Helpful tip: be sure to give the wheels a good cleaning, so they won't dirty the carpet or floors where the pallet table will be placed upon completion.
Alex wanted a sleek urban finish, so she selected Minwax® PolyShades® — a combination of stain and finish in one coat — in "Classic Black," with a Gloss sheen.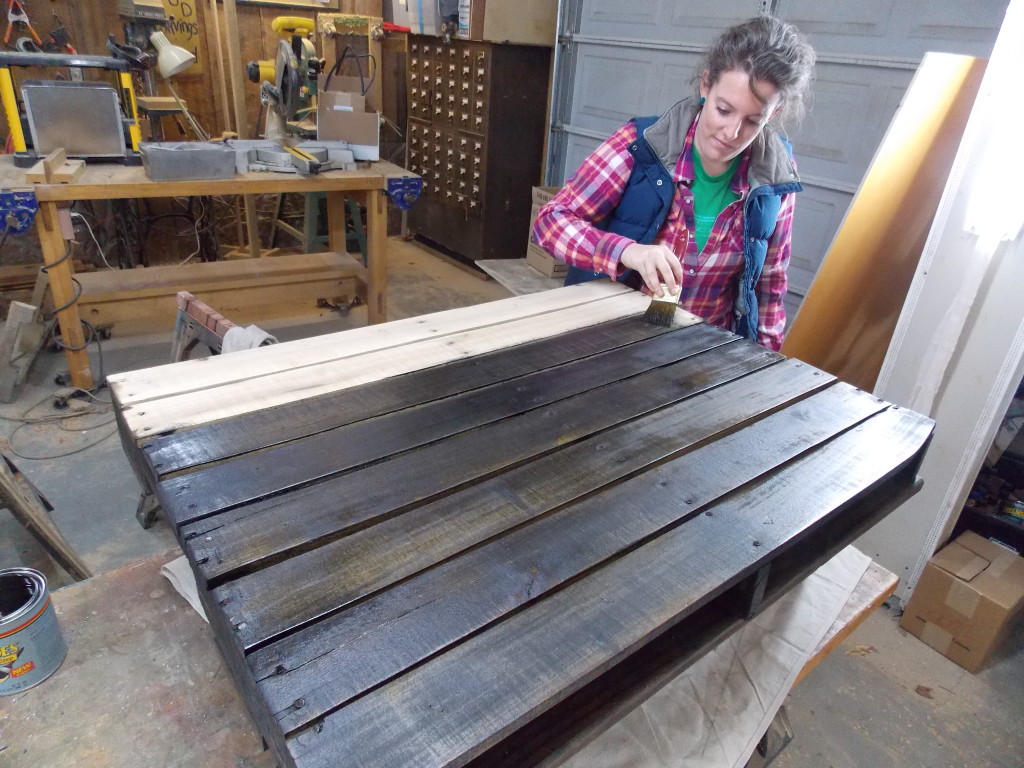 What a dramatic difference — and statement! And with PolyShades®, you can still appreciate the grain of the wood.
I must confess: it came out much better than I would have guessed. It still has the look of a pallet, but the sophistication of a piece of finished furniture. And I love her storage shelf underneath. A classy, urban coffee table re-purposed from a dumpster pallet in just a few hours time! Way to go, Alex!
Until next Monday,
Thanks for stopping by!
Bruce