Guest Blogger Christina from Christina's Adventures attended our Habitat for Humanity ReStore event and is here to pass along a few tips and tricks she picked up from the workshop. Follow along as this avid DIYer imparts some helpful guidance to get you started on your next wood finishing project.
This post is sponsored by Minwax®. As always, opinions are always 100% my own. 
I went to an event hosted by Habitat for Humanity's ReStore and Minwax® a few weeks ago, and it was so much fun!  I met some friends, played around with some products, and truly learned just how little I know about staining & finishing wood.
I mean, I've been DIYing for years now – I wasn't sure how much I would learn at this wood finishing workshop.  I was so wrong!
The workshop was taught by Bruce Johnson, who is a wealth of knowledge for all of the things that go into woodworking projects.
Thanks to his wisdom, I can give you a guide so you can feel confident to tackle your next DIY – whether you're a beginner or have been doing this for years (like me!)
HOW TO STAIN WOOD:
PREPARING THE WOOD
Sand the wood – always "with the grain"

If you go against the gran of the wood, you'll end up with scratch marks once you apply the stain.
You can sand with 120 grit sandpaper for a smooth finish

Use a wood conditioner like Minwax® Pre-Stain Conditioner

This one was new to me – and now I won't do another project without it!
If you don't condition the wood first, your stain will go on blotchy.
You can see the difference in how the wood looks once it's conditioned (this photo has not been edited in any way):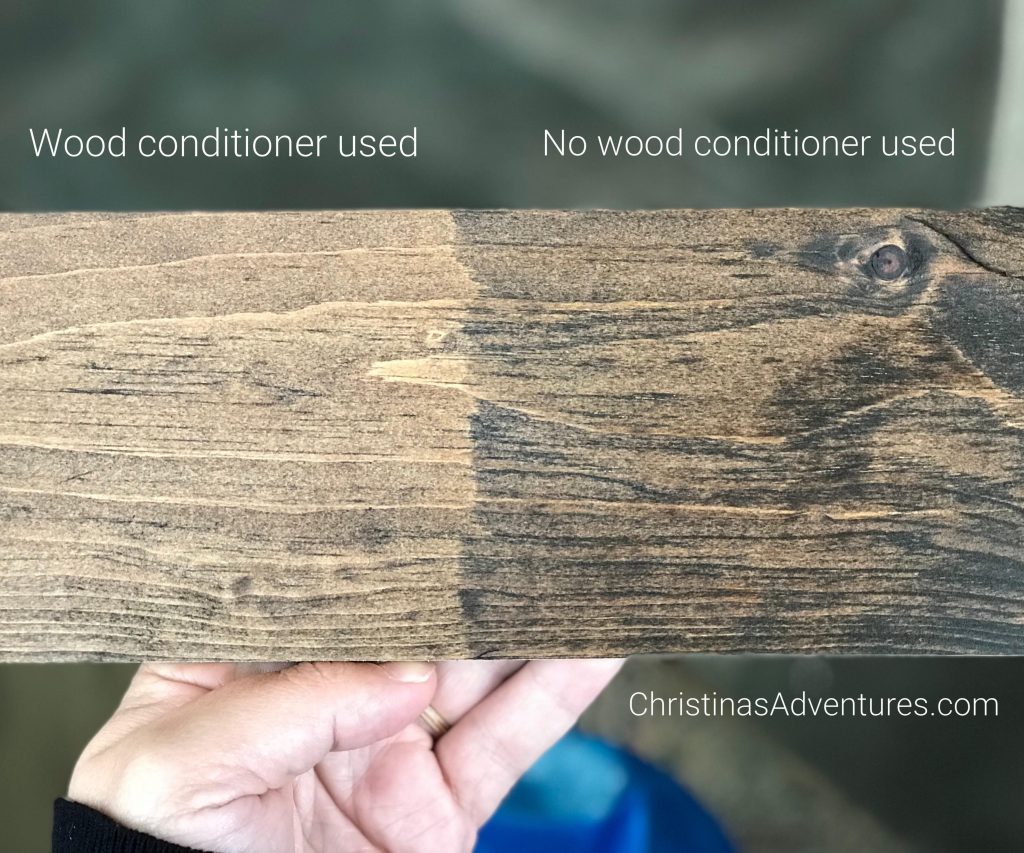 APPLYING THE STAIN
Using the right tools is really important for the next two steps.
Oil based vs. water based

I personally like using an oil based stain, like Minwax® Wood Finish™, but there's a variety of choices of colors between water based or oil based stains.
Oil based products give you a longer working time, while water based products dry quicker.

If you use a water based stain, like Minwax® Water Based Wood Stain, make sure you are using brushes with synthetic fibers.  Otherwise, the bristles will soak up the water and the brush will expand and lose it's shape.
If you use oil based products, you can use a brush with natural fibers or a foam brush.
Never shake the stain!  It will get bubbles in it and can give you an uneven finish.
When applying the stain, make sure you go with the grain.  You can wipe off the excess stain after you put the first coat on (the longer you wait to wipe it, the more concentrated the stain color will be).
FINISHING OFF THE WOOD
Again, you can choose to use oil based products or water based products.  I personally love water based products for this part. Minwax® makes a number of great options in both varieties, such as Minwax® Fast-Drying Polyurethane, which is oil based and Minwax® Polycrylic® Protective Finish, which is water based.
It's important to apply a finish coat – this will protect your wood from wear & tear, and it will also help lock the stain in and make it even more vibrant.

If you're not a fan of the shiny finishes, you can get them in satin or matte!  Don't let the high gloss finish scare you away if that's not your style.

Polyurethane (which is oil based) will amber, or yellow, over time.  Polycrylic (which is water based) will always be clear and will not yellow.

Just remember – you'll have a longer working time with Polyurethane than Polycrylic. If you're confident in your ability to work quickly, then go with Polycrylic!

Let your stain dry overnight before applying your top coat.
When you're applying your finish, you need the correct brush.  Again – synthetic brushes = water based products and natural brushes = oil based products.  Use a high quality brush for this portion of the project so you can get the smoothest finish possible
Do one thin coat, wait overnight, sand *lightly* with a fine sandpaper, and reapply the finish.  Repeat this process at least one more time before you can officially be finished.
CLEANING UP
I'm guilty of throwing my brushes in the refrigerator with a baggie over them at night…but I am sad to report that I was told that wasn't a good idea.  Boooo!
Take the extra 5 minutes and thoroughly wash your brush out after every use.  If you're using an oil based product, clean with mineral spirits.  If you're using water based, you can clean with water.
Make sure to hold your brush down while cleaning – otherwise product will build up near the base of the brush and ruin the shape of your bristles.
You can use the little hole at the end of your handle as a hanger, so you can hang it to dry to keep the shape of the brush.
Did you know you could keep that little cover it comes in to protect your brush after use?  I always just threw it away – not anymore!
OK – phew.  I know that's a lot of information!  It's important to be informed, but it's also OK to experiment and find your own special technique and style!
It's easy for me to talk about Minwax® products, because they're basically all I use!  Come take a peek at some of our past projects we've used Minwax® products for:
OUR BATHROOM COUNTER TOPS:
I used Minwax® Wood Finish™ in "Early American" with the "Satin" finish Minwax® Polycrylic™ on top of our butcher block counter tops in our bathroom (they're cherry butcher block slabs):
WOOD WINDOW VALANCE:
I used Minwax® Wood Finish™ in "Early American" to stain these pine boards to make our *easy* window valances.  Now that I look back at these pictures…they look blotchy!  I totally should have used Minwax® Pre-Stain Conditioner first to give it a smoother stain application: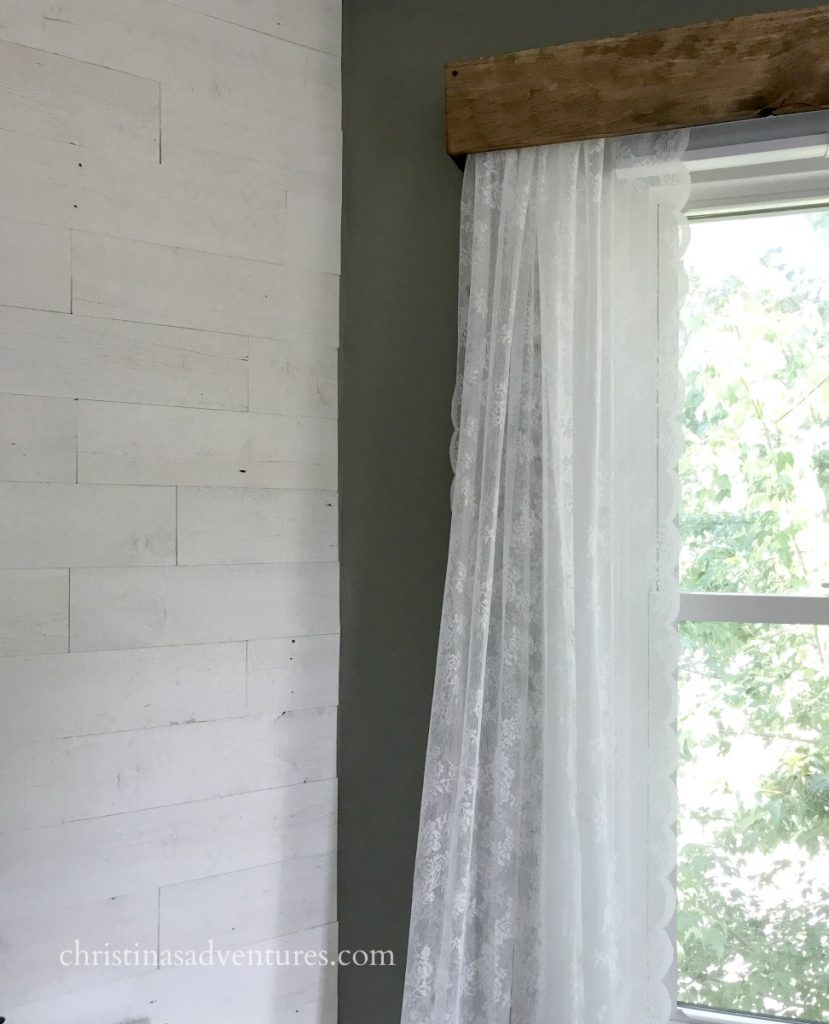 OPEN SHELVING PANTRY:
We used Minwax® Wood Finish™ in "Weathered Oak" on these shelves (pine boards from the hardware store) in our last house:
DIY WOOD FRAMED MIRROR:
One of my favorite easy DIY projects – again, we used Minwax® Wood Finish™ in "Early American" on these (look at the difference in tones between that pine wood and the butcher block – we used the same stain!) I love how they look, but remember: separate pieces of wood may take the stain differently, so it's important to test a section first before you commit to a stain for your wood.
Make sure you head over to Minwax®'s Facebook page to "like" them and see lots of other tips & tricks that can help with all of your DIY projects!  You can also find a LOT more specific product information on Minwax.com – they're a great resource!
This post and the event I attended where I learned all about how to stain wood are all part of Minwax®'s "Made With Love. Finished With Minwax." campaign currently going on. The theme is 'Find. Finish. Love.,' celebrating the thrill of finding real wood pieces – sometimes in the least expected places – and the joy of making them into something we love.
They're working with some amazing friends of mine – see any familiar faces in this group?
Blogger Christina of Christina's Adventures passion is to inspire your own adventure! Whether it's painting a piece of furniture for the first time, getting the courage to tackle your first DIY house project, or even working on remodeling your own home. You can see more of her gorgeous DIY projects on her blog as well as Facebook, Twitter, Instagram and Pinterest.