I can't think of a better way to spend a rainy Saturday than being out in my workshop. And this past Saturday I had the pleasure of sharing my workshop space with the winner of the recent Minwax® Miracle Makeover Contest. If you'd like to take a look inside my workshop and see how Tom Peel and I spent our rainy Saturday, you can read more about it here.
Tom's entry for the Minwax® contest was a grandfather clock that had been in his family for years, but that had been badly damaged in a terrible fire in his brother's house. Had it not been a family heirloom, I would have pronounced it beyond saving, but Tom and his brother pulled it out of the charred living room and took it back to his workshop, where Tom painstakingly restored and rebuilt it.
As part of the Miracle Makeover Contest, Minwax® arranged for Tom and his wife Bonnie to enjoy a weekend in Asheville, NC, near where I live, and to spend a day with me in my workshop trying various Minwax® stains and finishes. We started our weekend with a tour of the historic Grove Park Inn, built in 1913 and famous for its Arts and Crafts architecture, furnishings and heritage.
The 510-room Grove Park Inn will be celebrating its 100th birthday this summer, so the staff has been busy with some major renovation projects, including putting new wood casings on the pillars. Here you can see the enormous lobby, called the Great Hall, and can understand why two woodworkers like Tom and myself enjoyed just walking around and looking at all the wood!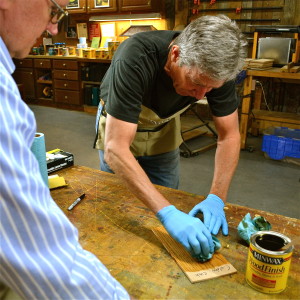 We awoke on Saturday to a steady downpour, but my garage workshop remained cozy, warm and dry. After treating some sample boards with Minwax® Pre-Stain Wood Conditioner to reduce any blotchiness, Tom and I began experimenting with some different stains. Here I am applying Minwax® Wood Finish™ stain in the Golden Oak color to a piece of oak, showing Tom how even just a little stain can really make the grain of the wood stand out.
Then Tom stepped in, first applying different colors of Minwax® Polyshades to some sample boards.
As you can see, we left space at the top to label each of our sample boards with the name of the stain, so that Tom could take them back to his workshop for future reference.
Tom and I had some company in my workshop, as his wife Bonnie joined us, as well as Paul Genovese from Minwax®. Paul also shared his expertise on woodfinishing with Tom, as we continued to sample various stains before then moving on to Minwax® oil-based and water-based clear finishes. By the end of the day, as we were putting some products into their car, Tom and Bonnie had a good idea of what Minwax® stain and finish they were going to use on the unfinished oak hutch waiting for them back home.
Until next time,
Thanks for stopping by!
Bruce