There's nothing quite like the changing of the leaves to make you want to add a colorful fall decoration to your house. Leigh Ann spotted this inexpensive unfinished box and pair of candlesticks at a craft store last week, and I knew it would be a perfect project to stain and finish in just one step using the new Minwax® Wood Finishing Cloths. If you want to see how they work, just click here!
A light sanding with #150-grit sandpaper, always going in the direction of the grain, opened the pores and rounded the crisp edges.
We picked the Chestnut color of the new Minwax® Wood Finishing Cloths, knowing the water based stain and finish would make this a quick Saturday morning project.
Each package contains a pair of clear plastic gloves, and Leigh Ann provided her own quick tip:  to prevent your gloves from slipping off, simply secure them around your wrist with an elastic hair band.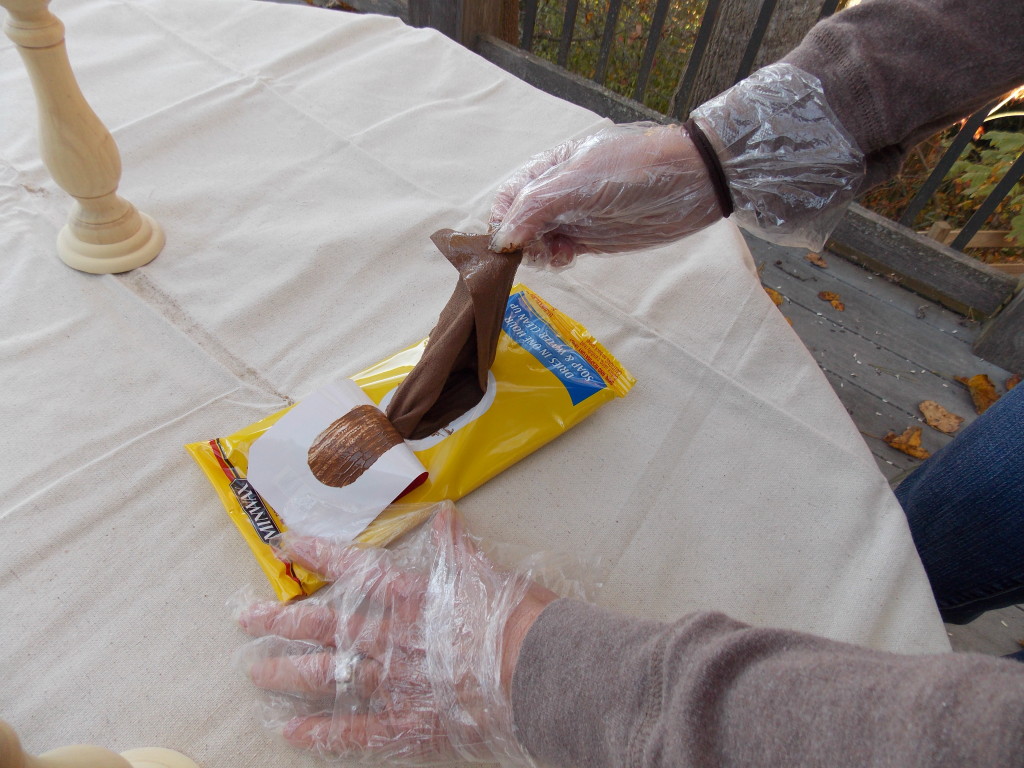 Instead of a lid, you simply peal back the resealable flap on the front of the package and pull out the first of the eight cloths.
Then it's simply a matter of rubbing the stain and finish into the wood.
The last step is to wipe off the excess stain with a soft, clean cloth or heavy-duty paper towel.
Leigh Ann chose a different color — Dark Mahogany — for the box, but followed the same two steps:  first, rub on the stain and finish …
Then wipe off any excess in the direction of the grain of the wood.
By the time we cleaned up, had lunch, and pulled out some fall decorations, the box and candlesticks were dry and ready to use.
Until next time,
Thanks for stopping byI
Bruce
PS – Be sure to check out this week's Minwax® Facebook page for more tips and techniques!