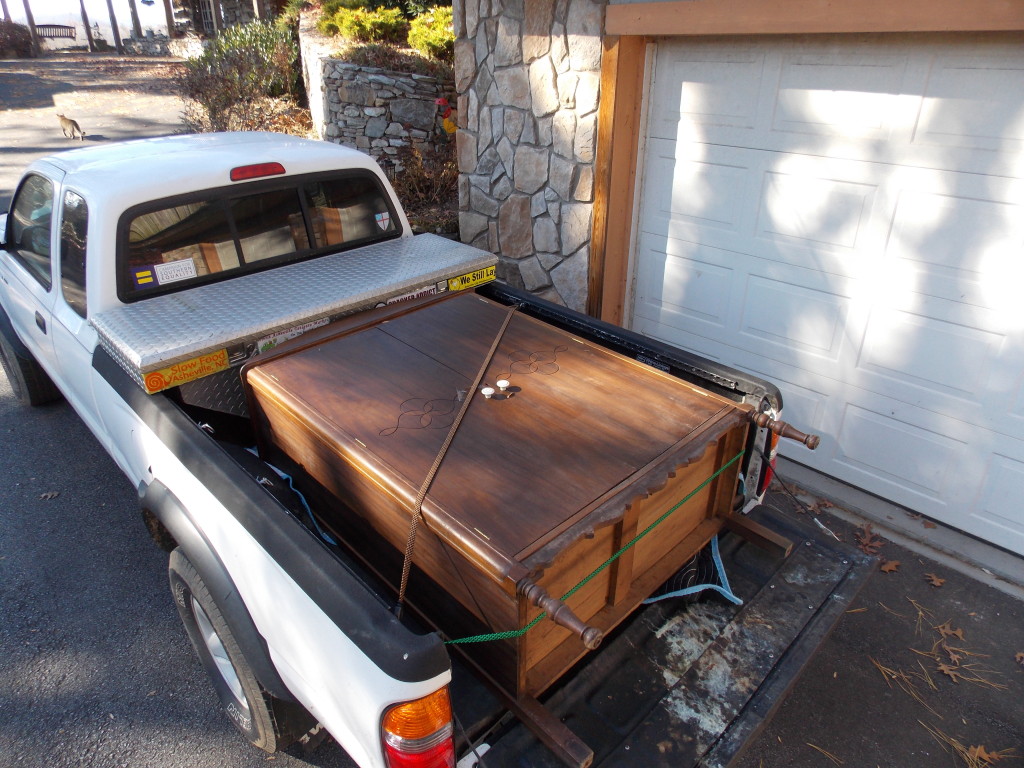 It isn't often that a truck pulls into your driveway with an antique walnut wardrobe strapped to its back, so this certainly got my attention. My assistant Alex is moving, so she "rescued" it from her parents' house (hoping they won't want it back when she's done restoring it). Want to see how she did? Just keep on reading!
It certainly looks better standing up in my garage, where we got started on it. Quick Tip:  a four-wheel furniture dolly under a piece of plywood sure makes working on large furniture easier!
I winced when I saw someone had taped the doors shut, as tape can damage an old, fragile finish, but we got lucky when Alex pulled it off — no sign of any damage! (Next time she'll tie the doors together.)
And when I saw all the storage space inside, I was really impressed, even with the old finish looking dirty and dried out.
They did faux inlay in the 1930's, too. In case you missed it, I showed how easy this is to do in last week's posting, so check it out.
The first step in any restoration is cleaning the old finish using Minwax® Wood Cabinet Cleaner and a soft cloth or paper towels.
You can immediately see the difference as the dirt and grime disappear.
With the dirt gone, Alex can then touch up the nicks and scratches with a Minwax® Wood Finish™ Stain Marker.
A light coat of Minwax® Wipe-On Poly, inside and out, will restore the luster and protect both the old finish and the wood.
Just a couple of hours later and what a difference! And no sanding, no stripping, and no brushes required in this restoration.
Alex was smart:  not only did she rescue this 1930s wardrobe from her parents' house, but she rushed it right over to her new place and quickly filled it up — before they could say, "Hey, what ever happened to that old wardrobe in the guest room?"
Until next week,
Thanks for stopping by!
Bruce
Parting Shot
Quick Tip:  One sign of a well-made piece of furniture is this strong dovetailed joint, so named because it resembles a bird's tail. The interlocking front and sides are always better than just nails, so watch for it when shopping for furniture!