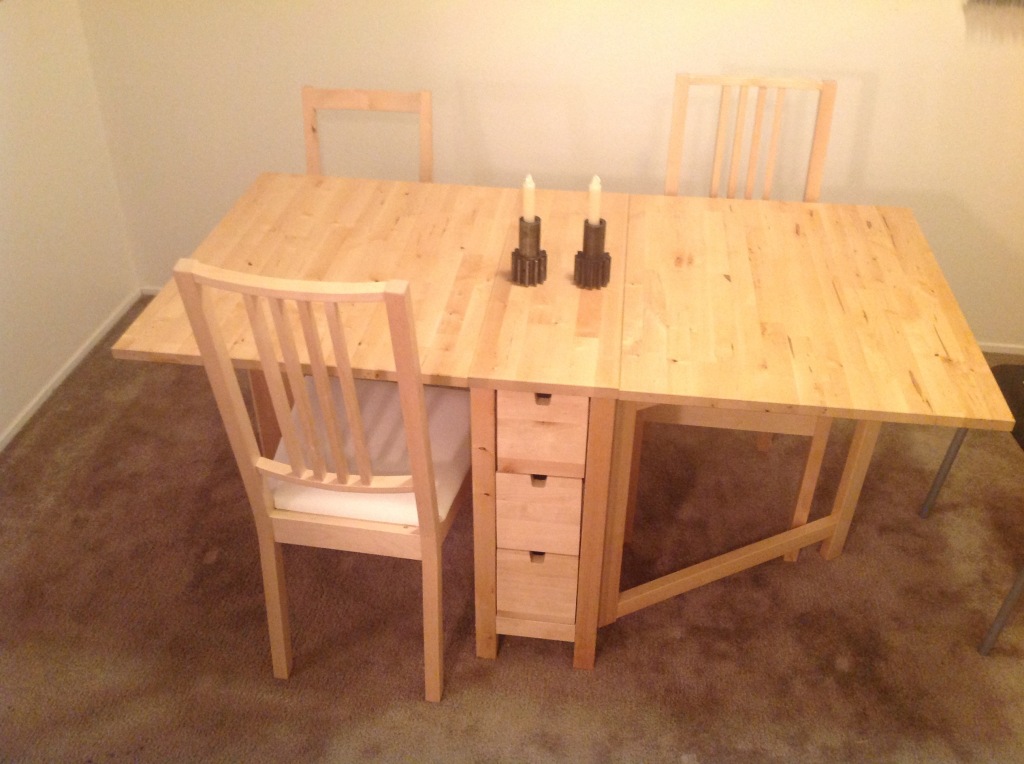 Even thought they grew up in a house full of antiques, my sons have both furnished their first apartments with help from Ikea — which might not be such a bad idea, given their lifestyles! They also picked up some unfinished furniture bargains, which prompted their father to pass along some ideas for "upgrading" their furniture….
Not knowing exactly what beverages they might be serving, the first thing I suggested to my sons was strengthening the clear, thin factory finish on some of their furniture. Even they had to admit that rubbing on a coat of Minwax® Wipe-On Poly with a soft cloth was as easy as the name sounds.
Next, I showed them how simple it is to unscrew the plain wooden knobs and replace them with some sleek, modern pulls.
My youngest son Blake likes wood, but also likes the look of a black finish, so Minwax® Polyshades® in "Classic Black" gives him the best of both. One thin coat allows the grain of the wood to show through the black stain; a second coat (shown above) provides more black color mixed with the protective Polyurethane, but less visible grain, so he could select which look he likes best.
Some of the high-end furniture we saw had some expensive brass and steel trimmings, but I showed him this drawer I had used on a recent television show, and how we could get the same look on his unfinished furniture just by attaching some inexpensive L-brackets from the hardware store to the drawers. Quick, easy, and chic!
Older son Eric was planning to buy several unfinished wooden cubes to use as bookcases, liking the idea that he could make them fit just about any space simply by re-stacking them. I pointed out that if he attached feet to the bottom cubes, raising them off the floor, they would look even nicer.
Those plain cabinet, armoire, or entertainment center doors can also be upgraded, this time by tacking on thin strips of molding. (Tip: cut them at the home improvement store using their saw.) For a splash of color, I suggested staining them first with one of the Minwax® Water Based Stains.
And if you like the Arts and Crafts style, but can't find any Stickley, you can get much the same look with a drill, a 3/8-inch bit, and an oak dowel — and some Minwax® Wood Finish™ "English Chestnut" Stain — even on a plain picture frame.
So, what can start out as an inexpensive, unfinished piece of furniture can turn into a showpiece for your home or apartment — with just a few little tips like these.
Until next time,
Thanks for stopping by!
Bruce