Leigh Ann and I had family and friends over for Thanksgiving. It was fun, but now we're getting ready for the next round, and we need to clean up our act. Cooking oils, grease, and dust add up to some dirty kitchen cabinets. The good news is that as bad as they may look, you can improve the appearance of your cabinets very easily — and just in the nick of time. If you're interested, read on!
What might look good from a distance fails close inspection, especially above our stove and venting hood where grease collects on the cabinets. Trust me, it looks worse than the photograph!
The first step is to choose the right cleaner. Your soapy dish washing water won't do it — and can leave behind an annoying film. Avoid harsh cleansers that contain ammonia or strong cleaning agents that will actually damage the finish.
Instead, I use Minwax® Wood Cabinet Cleaner that is formulated to safely clean any of the wood trim, furniture, and cabinets in our homes. Using the convenient trigger-spray bottle, simply mist the Wood Cabinet Cleaner on one door or drawer at a time,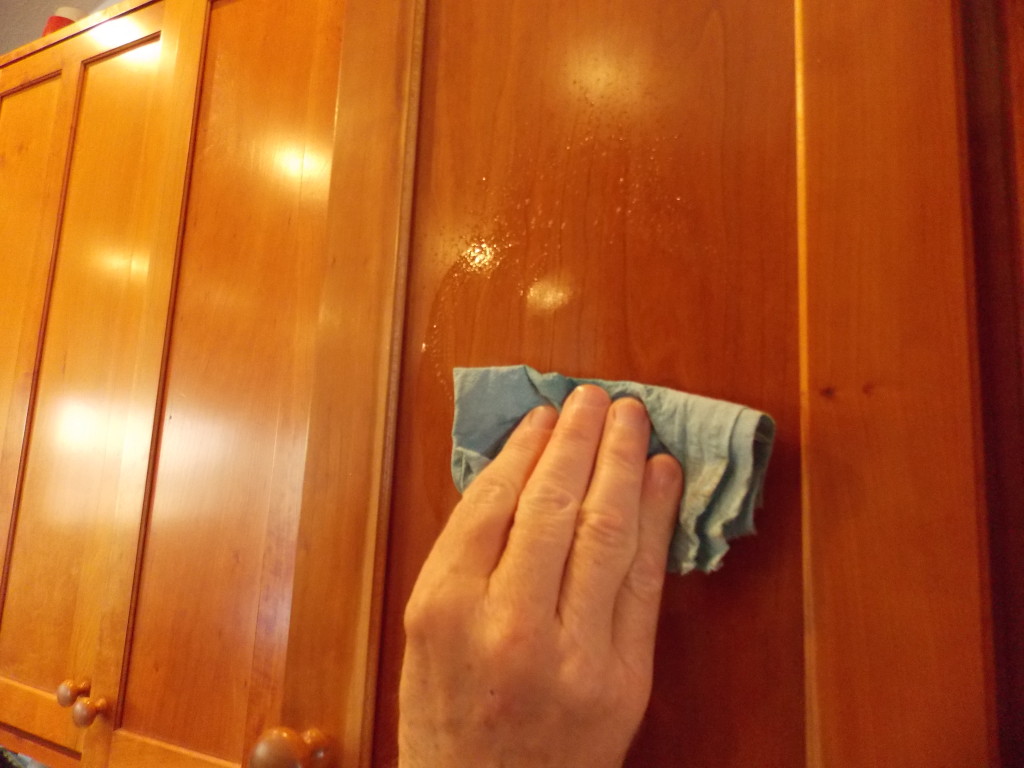 then use a soft cloth or paper towel to remove the dirt, grease, and grime.
If any of your cabinets have picked up a nick or a scratch, this is a good time to reach for a Minwax® Wood Finish™ Stain Marker to disguise them.
Now, you might not have time this week for anything more than just cleaning and using the Stain Markers, but if you have the time and want to really make your cabinets "pop", then rub on a coat of Minwax® Wipe-On Poly.
It really is just as easy as the name sounds, and the Wipe-On Poly will leave a permanent, protective finish on any worn, dried-out cabinets.
As you know, kitchen cabinets are one of the most expensive investments inside our homes, so it pays to take care of them. Getting rid of the grease and grime isn't just for looks: if not removed, all that dirt actually permanently softens and discolors the finish!
Until next time,
Thanks for stopping by!
Bruce