Hi! My name is Stacy Risenmay, and I'll be showing you how to build a tabletop! This post is sponsored by Minwax, and you can find more of my work on my blog Not Just A Housewife.
My dining room has had a few different looks over the years. One thing that has stayed the same, however, has been the dining table. We love the table that was given to us by some friends when we lived in Vegas. It has beautiful legs and has fit well in our small dining nook. A year and a half or so ago I built a larger top that fit over the original top. It was so nice having a larger top but I didn't like the edge coming down so far and I thought that the deep edge, plus the black, ended up making it feel bulky. This time when I built a new tabletop, I removed the original top all together and built a new top for the legs. It is easier than you might think to build a tabletop yourself!
Tabletop Before
I think I finally found the right combination of color and size for my new dining room tabletop. This is the perfect table for our little dining nook!

Tabletop After
Supplies:
Minwax Pre-Stain Wood Conditioner
Minwax Fast-Drying Polyurethane
1×4 Boards
2×2 Boards
Pocket Screws
Tools:
Purdy Ox Hair Brush
Kreg Jig
Screwdriver or Drill
100-grit & 250-grit Sandpaper
How to Build the Tabletop
Step 1: Cut Boards
Cut the 1×4 boards to the length you want your table to be, taking into account that the 2×2 border will add three inches to the length and width. Cut as many as you need to get the width you want. Our dining nook is small, so our table ended up being 54 inches by 38 inches.
Step 2: Drill Holes
I drilled pocket holes and used pocket screws to join the 1×4 boards together. They also connected the 2×2 that went around the border.
Step 3: I sanded the table with 100-grit sandpaper then finished off by hand sanding it with 250-grit. You need to make sure you finish with a fine grit sandpaper to eliminate the lines created by heavier grit sandpapers and sanders.
Stain the Tabletop
Step 4: Apply Wood Conditioner
Once it is sanded and the dust has been wiped off with a damp rag, apply a pre-stain wood conditioner. If you are going to use an oil-based stain, use an oil-based conditioner. If you want to use a water-based stain, there is a water-based conditioner as well. Follow the directions on the can and wait the appropriate time before applying the stain.
Step 5: Stain the Wood
Stain the wood with your choice of color. I wanted the tabletop to go with the reclaimed wood surrounding the giant chalkboard so I chose the Weathered Oak wood stain by Minwax. I have used it many times before and knew the stain color would be perfect! The more coats you put on, the darker the color. I ended up applying two coats. Soft applicators like the Purdy Ox Hair brush work best for applying stain.
Seal the Tabletop
Step 6: Apply Polyurethane
Once the wood stain has completely dried, it is time to brush on the polyurethane protective finish. Again, use a soft brush that is meant for oil-based polyurethane.
Once the polyurethane has dried completely, sand it using a fine grit sandpaper. When wood gets stain and seal it can raise the grain and make it feel rough. Sanding it smoothens it and helps the second coat of polyurethane sealer to adhere. Sand in between each coat. A tabletop needs at least two coats, but three is best.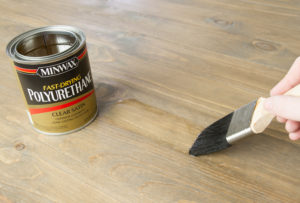 Bonus: Stain your other furniture to match!
While I was at it, I also sanded down the top of my bench and stained it to match the table. The legs on the table and bench got a fresh coat of white paint. I love the whole look!
Decorating Your New DIY Tabletop
Springtime makes me think of gardening, so I picked up some potted herbs to keep in my kitchen until I can plant some in my garden. They made the perfect addition to the spring tablescape.
White walls, lots of greenery, and warm wood tones together is my favorite combination. The Weathered Oak color is perfect!
The large window lets in plenty of light. It is one of my most favorite sunny spots in the whole house.
I feel like I finally have my dining room where I want it to be, and it is bright and fresh!
Do you have a dining table that you love?
This post was sponsored by Minwax but all the ideas and opinions are all mine.